The Activity Descriptions on this site provide a good window into the lives of residents at Medford Leas. Photographs and photo essays add to the picture.
All residents are members of the Medford Leas Residents Association. The Association's purpose is to promote and further the common interests of the residents and to communicate and cooperate with the Estaugh Board and the Administration in creating and cultivating a healthful, enjoyable, active, constructive and useful community life.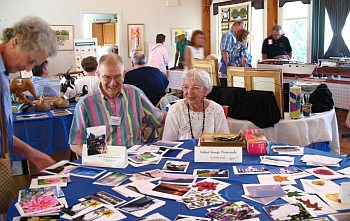 Handmade notecards at the Residents' Craft Show
MLRA committees set up programs in our theater - such as lectures by guest speakers and residents, concerts by artists from the Philadelphia Orchestra, the Curtis Institute and other sources. There is an art gallery that invites artists from the region and two other galleries that hang the work of resident artists. The committees also organize trips to the concert halls, theaters, and museums of Philadelphia and New York.
Residents organize social activities and provide volunteer assistance for the fitness and aquatics program, in-house mail distribution, floral display, trails and woodlands, and so forth. They publish a newsletter, a literary journal, and this website.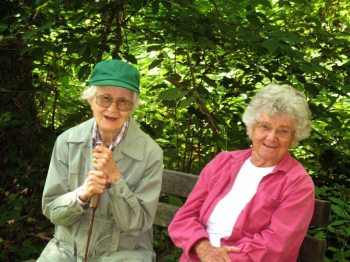 Woodlands Group Members - Taking a Break