Barton Arboretum Blog - New March 2, 2011
Photo-essays
in theWebsite Magazine
---
Slideshows
in the Photo Archive
Recommended Viewing Technique for Slideshows
Start a slideshow. Pull your mouse to the bottom of the screen. If the show is already playing, press the pause button. Proceed at your own pace.
---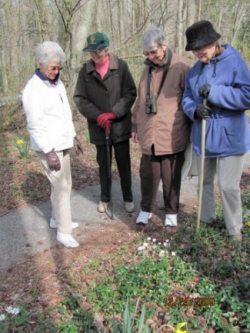 March 2010 photo by Jane Bourquin
On the first walk of the season, March 27, the group found a bloodroot in bloom, which was most unusual so early in the spring.
The Wildflowers Website is by far largest section of mlra.org. Each of the 180 plus flowers in the wildflower group's database has a page, and those pages are indexed four ways: alphabetically by both common and scientific names and pictorially by both color and season.